Locations, Spaces, and Rates
Within the downtown Antigonish area, there are 461 public parking spaces. These spaces include free (275 spaces) and metered parking spaces (186 spaces) in on-street and public lot locations. For a full listing of locations and spaces available and rates, please click here: pdf Parking Supply Information (209 KB)
Further information related to the administration of parking in the Town of Antigonish can be found in the Parking By-law.
Winter Parking Regulations
Due to significant winter weather in the forecast, the Town will be enforcing the overnight Winter Parking Ban starting on Saturday, March 20 at 12 a.m. (midnight) to Monday, March 22 at 7 a.m. If you regularly park on the street or in a Town-owned parking lot overnight, please find alternate arrangements or you will risk being ticketed and towed.
Each year, the Town of Antigonish institutes its winter parking regulations from December 1 to April 15. To enable the Town of Antigonish Public Works crews and contractors to remove snow, and salt streets more efficiently and safely, residents and other users are reminded that Section 139 of The Motor Vehicle Act for the Province of Nova Scotia prohibits vehicles from obstructing snow removal or other winter maintenance. The Act allows for such vehicles to be removed at the owner's expense. The Winter Parking Regulations are in effect from 12:00 a.m. to 7:00 a.m. on all town streets, parking lots and includes all streets and marked parking lots on St.F.X. University Campus. To download the Winter Parking Ban poster, pdf click here (37 KB) .
Where can I find information on Parking Bans?
We post all our Parking Ban information to our Facebook page. If you do not have a Facebook account, please scroll through our feed at the bottom of this page for updates.
HotSpot Parking - Mobile Payment
The Town of Antigonish now offers a mobile payment solution for all marked parking meters through HotSpot Parking. For more information, and to download the app, please visit: HotSpot
Click to read more about HotSpot.
Parking Kiosks
The Town of Antigonish has installed a new parking kiosk at the Sydney Street parking lot. Parking costs 0.50¢ per hour for a max of two hours.
Payment for parking at this kiosk can be accepted by credit card or coins. For easy to follow instructions, please review the poster below: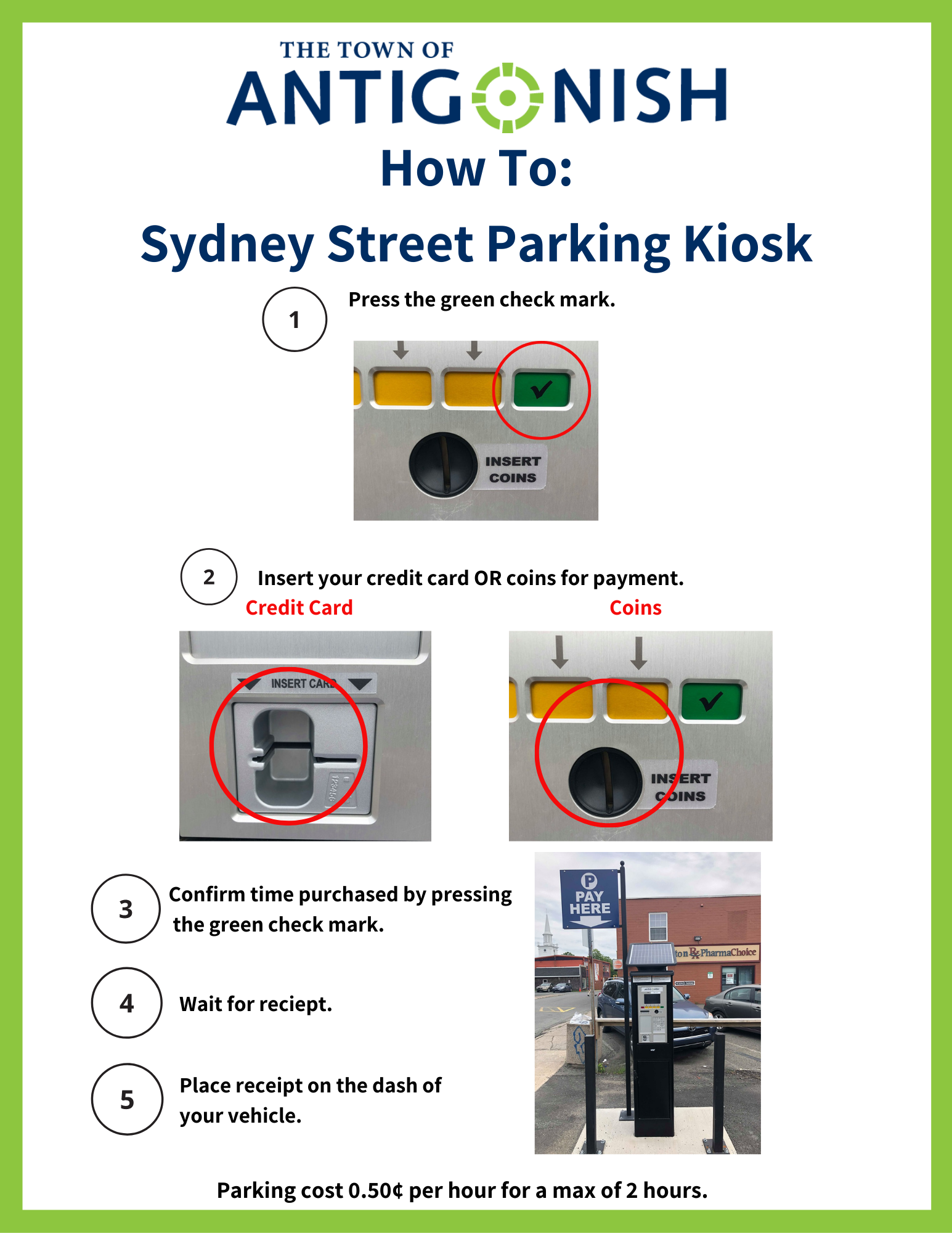 Press the green checkmark.
Insert your credit card OR coins for payment.
Confirm time purchased by pressing the green checkmark.
Wait for receipt.
Place receipt on the dash of your vehicle.
To download a copy of this poster, pdf click here (761 KB) .
For more information about the Town's Winter Parking Ban,

pdf

click here

(587 KB)

.
Paying Parking Tickets
If you have received a parking ticket, please visit our Billing & Payment section for online payment information, or visit the front counter of Town Hall to pay in person.
Electric Vehicle Charging
The Town of Antigonish offers three different locations for motorists to charge their electric vehicles. All stations in Antigonish offer J-1772 Plugs, which are 6kW. Fees are $1 per hour.
1. Claymore Inn & Suites, 137 Church Street Antigonish (Charger is around back. If the charger is off, ask the staff at the front desk to turn it on).
2. StFX University J Bruce Brown Building, 2320 Notre Dame Avenue
3. StFX University Bloomfield Centre, 5555 Union Place
For more information about Electric Vehicle Charging stations around the province of Nova Scotia, visit Plug Share.
More Information
For more information related to parking, or to find out how to pay your parking ticket, please contact the Traffic Authority, located within the Department of Corporate Services.
Like Us On Facebook